Small Balance Loan Program
When it comes to purchasing or refinancing your own building or an eligible income producing property our "NATIONWIDE CORE" small balance loan program is considered one of the most desirable ways to achieve your goal of obtaining the combination of leverage with incredibly competitive rates.
Our small balance loan programs are designed to help small businesses owners refinance debt, purchase or improve an existing commercial building as well as provide financing for working capital and/or purchase fixtures, furniture & equipment.
Advantages of our "NATIONWIDE CORE" Small Balance Loan Program:
NO BANKING RELATIONSHIP REQUIRED. Borrowers are free to keep their operating accounts where ever they desire.
For owner-user property requests we offer fully amortizing loans up to 25 years with no balloons.
For income property requests we offer a minimum 10yr term with up to a 25yr amortization.
Closing costs such as appraisal fee, environmental fees and other contingency fees can be included in the financing so long as LTV limits are not exceeded.
Nationwide loan program with the exception of the following states: AL, LA, MA, ME, MS & OK. Please check back from time to time as we are constantly updating eligibility.
Little or no origination fee programs. Our typical loan fees range from 0% to 1.00%
"ALTERNATIVE" Small Balance Loan Programs:
For Borrowers who do not qualify for our Nationwide Core loan program ARROW provides several Alternative Small Balance Loan Programs with LTV's up to 80% at very competitive rates. The loans offered under this loan program provide an amortization up to 30 years with a typical 10 year loan term. Most commercial real estate property types are considered under these programs. Loan fees range from 1.00% to 2.00%
Structuring Of our Small Balance Loan
The Small Balance Loan Program has two participants (see chart below):
Loan Amounts from $ 250,000 up to $ 8,000,000
A 1st Mortgage loan for up to 75% of the property value Arrow Mortgage, LLC offers one the widest variety of first mortgage programs in the industry. We offer a 90 day ARM, 1yr ARM, 3yr ARM, 5yr ARM, a 7yr or a 10yr Fixed Rate that converts to a 5yr ARM.
A Small Business Owner who contributes a down payment of at least 25% of the total project cost on purchases or retains at least 25% in equity in the property for refinances.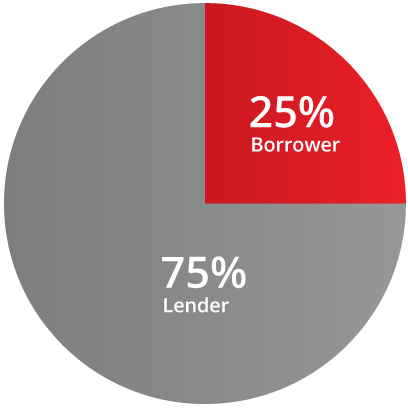 To Meet The Minimum Qualifications For A Loan The Business Must:
Be organized as a for-profit business. Unfortunately, the loan program is not designed for non-profit businesses
Be organized as a sole proprietorship, corporation, partnership or limited-liability corporation (LLC)
Possess historical cash flow of at least 1.20X DCR for owner-user properties and at least 1.30X for income properties.
Possess a Minimum Personal Experian Credit FICO score of not less than 675 with no bankruptcies
All loans require an urban/suburban area with a population of at least 50,000
Other Eligibility Requirements
To be considered as an owner-user property the business must occupy at least 51% of the existing building.
Eligible income producing properties are retail centers, warehouses, office building and medical offices.
Ineligible properties are : Gas Stations, Car Washes, Auto Dealerships, Night Clubs, Fitness Centers, Athletic Clubs, Special-Use Start-Ups, Hotels/Motels, Assisted Living Facilities, Churches and any environmentally sensitive properties.
Interested in applying?
Please complete the enclosed form and a Representative from Arrow Mortgage, LLC will promptly contact you.
Small Balance Program Guides
Free Initial Assessment
Contact us today to obtain a free initial assessment of your current financial situation
Apply Today!
Contact Arrow Mortgage, LLC Today!